Absolut Vodka is a uniquely Swedish company, but even as it touts its 'Nothing to Hide' campaign with naked employees in its home country, the global brand travels a more hipster route for its latest campaign in New York City.
The New York-centric campaign launched in late 2017 with out-of-home billboards and wild postings in specific neighborhoods around the city that captured and reflected insider takes on the New York experience.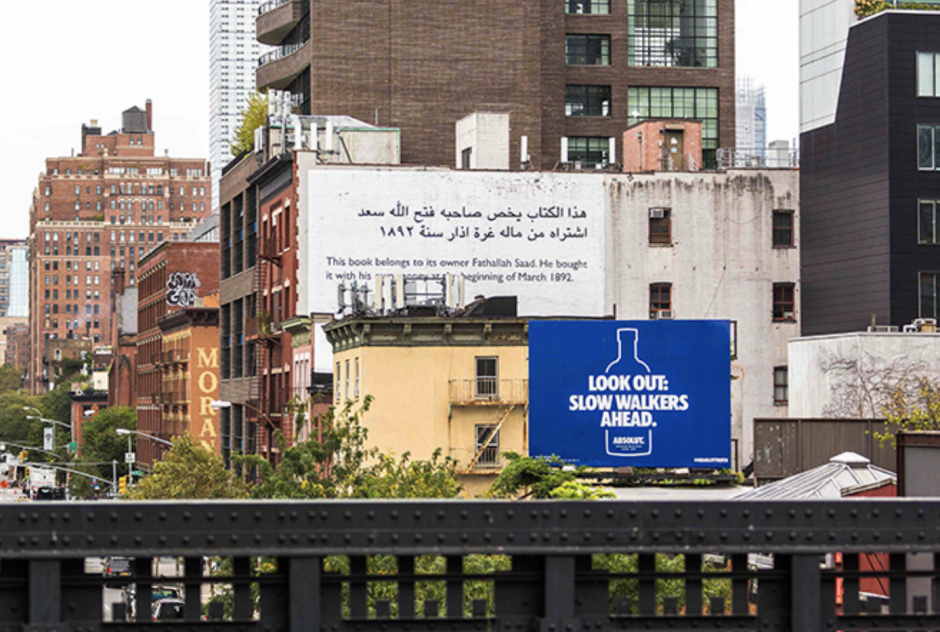 Absolut NYC neighborhood billboard
Now, the campaign has been expanded, using mini-documentaries featuring eight New York celebrities, icons and influencers.
In the video shorts, people like journalist Michael Musto, rapper Jim Jones, DJ Stretch Armstrong, author Lizzie Goodman, model/singer Amanda Lepore and radio personality Miss Info give their takes on their favorite neighborhoods and venues, their takes on what it means to be a New Yorker and what makes the city so inclusive and accepting.
"Absolut was determined to work with the people who were not only the best fit for the brand, but also the campaign, which is all about a distinctly New York dialect of honesty and freedom of expression," said vice president of strategy Douglas Brundage, of Team Epiphany, which worked with Absolut on the project. "We wanted to work with real people who are iconic in New York City, and ideally also harken to Absolut's history as a progressive brand that launched in the US for the first time in 1979 right here in New York City. And we wanted it to be cross-generational – emblematic of each decade since Absolut entered the US market."
Brundage went on to say that the list of those chosen came together organically, combining old school New York with younger movers and shakers (like the Frankel brothers, who are carrying on the Jewish deli tradition) and those who have a distinct voice in the city, like Goodman, Jones and Musto.
Lest one think that a foreign brand is trying to muscle in on heritage New York territory, Brundage points out that Absolut has been a part of the city's beverage culture for almost 40 years. One of the short films even asks how long someone needs to live in New York to be considered a New Yorker – 10 years, according to Armstrong and Jones.
"In the case of Absolut Vodka in New York City, there is a lot of authenticity there, and obviously this is a strength. We launched in 1979 in downtown New York City. Warhol took our portrait. He fell in love with the bottle. So did Keith Haring. In terms of how we crafted the campaign, the concept of Absolut Truth is tied into the realities that only people who live in a particular neighborhood, or have a certain state of mind about New York City, will know. And people that don't, hopefully, now have a conversation point to enter with to talk about our brand," Brundage said.
Part of the campaign is about being hyper-local, like jokes about the Second Avenue subway on coasters, or Grindr references in Hell's Kitchen. Absolut even took its own spin on the iconic 'Anthora' Greek coffee cup as special glassware across the city, which can be seen in the videos.
In addition to the stars and influencers, the Absolut Truth Experience set up a mobile confessional booth designed to capture the truths and testimonies about bar patrons' New York City lives. The booth is traveling around Manhattan's hottest bars for consumers to offer their 'Absolut Truths' on NYC.
"New Yorkers love to talk about New York. The goal of the Absolut Truth Experience is really just to give New Yorkers a platform, to allow others to share their perspectives on life in New York. And, hopefully, try a delicious Absolut cocktail while they're at it," said Brundage.
Absolut wants people to think of the vodka as a New York brand, no matter that it has foreign roots. Brundage said it has contributed to the landscape of nightlife and art in the city, as well as to the LGBT+ community. He is also excited to see millennials engaging with the brand.
"Re-engaging a whole generation of New Yorkers with Absolut has been a joy," he said.
See more videos by clicking on the Creative Works box below.