Waste is an independent creative agency founded in 2006. We connect entertainment brands with their fans, to drive creativity, culture and commercial success. A virtuous circle we call 'Brands powering fans, powering brands'.
'AR Social Distance Hat' by This Thing of Ours
by Julia Conroy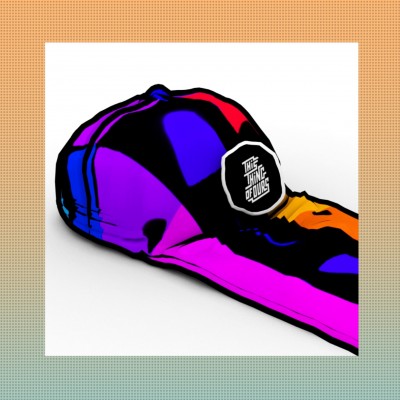 Design and animation studio This Thing of Ours, part of the Waste family, has made the world's first AR Social Distance Hat™ to give people something to do while they're (possibly) queuing up for their first pint in three months.
This Thing of Ours built the AR hat as an Instagram filter, featuring a bright, bold, 'toon-ifed hat, with an extra-long peak, of course. The hat, which was modelled in Z Brush and Maya, looks like it came straight out of Who Framed Roger Rabbit?, covered with big thick 'toon outlines and crazy Saved By The Bell-style patterns, each designed by one of the TTOO team. There are so many designs, you'll rarely see the same one twice - even if you wanted to.
The filter is available on the This Thing of Ours Instagram page (@thisthing.studio). The studio has set a simple challenge to anyone who uses it - make it as funny as you can, and share whatever you do using the #SocialDistanceHat hashtag.
Alex Robinson, Motion Director, This Thing of Ours, Norik Imami, Animator, and Benny Bentham, Associate Creative Director at Waste, came up with the idea for the hat while talking about lockdown, queuing...and their love of hats.
Alex said of the SDH (Social Distance Hat):
"I wanted to create a mad, bright and in-your-face AR hat that flickers through some crazy designs. Something that was fun - and that people could use in weird and wonderful ways. And, after talking to our brothers and sisters at Waste, we came up with the Social Distance Hat.
He adds: "But we don't really want people to use it to actually measure how far away they are from someone in the Tesco queue. We just want them to have fun with a pretty weird looking hat. It's easy to use and it's a bit silly. Which is why we love it."
Norik Imami, This Thing of Ours Animator and AR Milliner on the project, said:
"We had a few challenges finding the right balance between image quality and file size. It was also a fun challenge working out how to create a 'toon render using the AR software. The result does what we set out to do, which was to make a 'toon-inspired hat for people to have fun with. It works well on TV, so who knows, they might even place it on Boris."
Try out the Social Distance Hat here: https://www.instagram.com/ar/688614891697474/