Bidstack is the leading in-game advertising platform. We bridge the gap between game developers and advertisers by enhancing the gaming experience with real-world ads.
This promoted content is produced by a publishing partner of Open Mic. A paid-for membership product for partners of The Drum to self-publish their news, opinions and insights on thedrum.com - Find out more
Bidstack pick up speed with exclusive Turborilla partnership
by Adaeze Ugochukwu
May 13, 2021
Bidstack is pleased to announce an exclusive partnership with the Swedish game developer Turborilla for three new racing games. The titles will help to grow Bidstack's racing vertical, and further diversify the audience that can be reached by brands when running campaigns across Bidstack's portfolio.

Bidstack's SDK will be integrated into three titles, including Mad Skills Motocross 2 and the upcoming Mad Skills Motocross 3, which will build on the winning formula of the hugely successful series.

Mad Skills Motocross 2 is regarded to be the world's best side-scrolling motocross game and is already available to players on iOS and Android. The game is recognised for its responsive physics, realism and the intensity of its racing experience.

The highly anticipated Mad Skills Motocross 3 is set to officially launch on iOS and Android on May 25th. With plans for new tracks to be added to the game regularly alongside weekly competitions, the game has been designed to keep players engaged as they enjoy a high fidelity graphical experience.

The final title added to Bidstack's growing racing vertical is Mad Skills BMX 2, a fun arcade-style racer that has been installed more than 40 million times worldwide. The game is popular with action sports enthusiasts, pro athletes and casual gamers alike and allows players to compete with friends and other racers globally.

The new games will help to grow Bidstack's reach in core markets and form part of a wider strategy to build scale across the largest, premium games in the interactive entertainment space.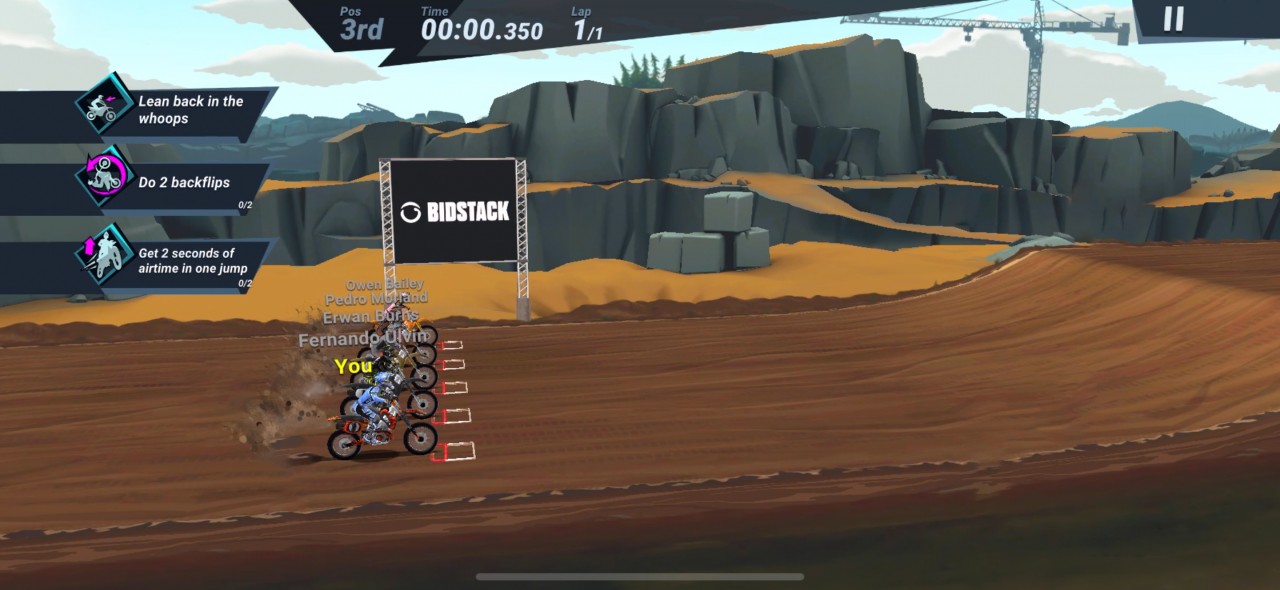 Bryan Stealey, CMO at Turborilla said "We think our games are a perfect fit for Bidstack's native advertising platform, and we're really excited to be associated with all of the other big racing titles in the Bidstack family."

"We want to be one of the mobile games that shows how effectively this type of advertising can be implemented. Whereas some forms of advertising can be annoying to players, we think native advertising, when done well, can actually enhance the player experience. We're just so excited about this partnership, and about working with the fantastic crew at Bidstack."
Harry Morris, business development coordinator at Bidstack said "We're delighted to partner up with Turborilla on the Mad Skills series. As well as working together on Mad Skills BMX 2 and Mad Skills Motocross 2, we can't wait to bring exciting brand partnerships to the long-awaited sequel Mad Skills Motocross 3 from launch.

Making real word brands part of the gaming experience helps to increase the sense of immersion for the player, to the extent it really feels like a true motocross showdown! It's been an absolute pleasure working with Bryan and the rest of the team so far and we're looking forward to bringing them partners that fit naturally within their exceptional games."
Tags