Appetite Creative was brought on board to pivot healthcare market researcher, Pi Healthcare's offering and enable them to seamlessly deliver digital events in place of in-person meetings to correspond with new demands as set out by the pandemic. The agency created a bespoke platform which collected data to allow for easy tracking and understanding of how clients engaged.
Background
Pi Healthcare is an experienced company dedicated to delivering key opinion leaders and stakeholder strategies for the global healthcare/device/biotech and pharmaceutical industries.
Taking cultural nuances into account and driven by innovative technologies, Pi Healthcare builds valuable strategic market research analysis and solutions for global, international and national organisations in the healthcare community, empowering them to gain deeper, high-level, influential insights into stakeholder mapping, and to develop relevant stakeholder plans.
Strategy
For businesses that used to host a considerable amount of face-to-face events, COVID-19 has dealt them the worst blow.
Pi Healthcare needed to act swiftly to confront this challenge with a digital approach that diminished the inconvenience of meeting in person; whether it was due to commuting or the concern of virus transmission.
Pi Healthcare also wanted to enable clients to access their seminars whenever they were available, rather than waiting for a live event at a fixed date or hour.
Appetite Creative Solutions were invited onto the project to design and build a healthcare platform for Pi Healthcare, where they could host virtual seminars through pre-recorded videos around trendy healthcare-related topics for their clients.
Process
The resulting platform is fully secure, with users have only being able to access its content through a direct invite. Through the admin dashboard Appetite created, Pi Healthcare had complete control over they sent invitations to. The dashboard gave them the ability to send out automated emails containing unique codes to access the platform, with just a click of a button.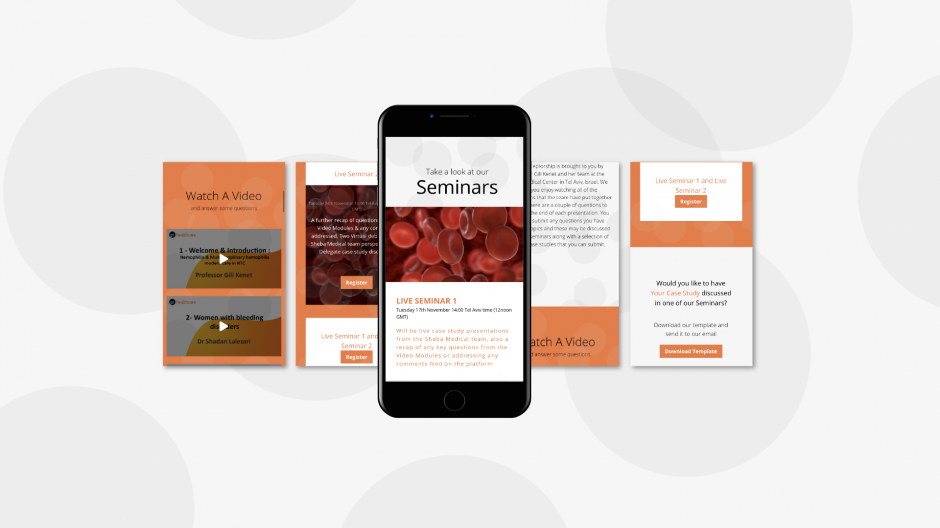 At the end of each video, users were quizzed with two to three questions. If they selected a wrong answer, the platform would then prompt them to re-watch the video again, in order to assure that they gained the right knowledge from the videos.
The platform minimized the inflexibility of having in-person events at specific hours that might not suit everyone, by offering the opportunity to sign-up for live seminars at the end of the quiz submissions. The platform gathered all comments and questions that users had while watching the pre-recorded videos, to then be addressed later in the live seminars.
Most excitingly, the platform had an admin system which allowed Pi Healthcare to collect user data, like the length of time users had been on the site; which videos users had viewed; and if they watched them until the end; which questions were answered correctly. These helped create an impage of how engaged users were with the platform so that the company could learn how to improve the overall experience in future.
All the data was recorded in the dashboard backend and was readily available to Pi Healthcare.
Results
The platform proved to be a success with more than 95% of invited users converting to registered users and 90% actually signing up for the virtual seminars.
The platform developed by Appetite Creative helped PI Healthcare solve the inconvenience of face-to-face events at this stage and allowed the company to easily switch between conferences in Brussels and Tel Aviv. Data from each conference was collected on a dashboard and automatically separated and displayed.
There was also a significant boost in video views since the launch of the platform, with an increase of more than 5,000 in total, with more than 700 full video views. An all-round resounding success!