Father's Day – the heart-warming celebration of men and fatherhood is celebrated around the world on different dates and a variety of ways. It is almost upon us here in the UK, but what about other markets around the world? How do different cultures observe this special day and how might that influence campaign design and the planning of digital marketing spend?
Dates for Father's Day are spread far and wide in the celebration calendar for 2015 – Russia is the first nation in the year to observe a Father's Day type-event with "Defender of the Fatherland Day" in February (though extended to all men) while Bulgaria celebrates last with its Father's Day on 26 December.
Father's Day traditions are as diverse as the dates. In Thailand the Canna flower is known to be gifted to fathers and grandfathers on the current Thai king's birthday (December 5th) however, German gentlemen celebrateMännertag on Ascension Day with hiking while pulling small wooden wagons of beer or wine. I know which culture my Dad would opt to be a part of if he had the choice!
Father's Day may not be the biggest celebration in the year, but it is a significant event, particularly if you are marketing to multiple countries in multiple languages. The National Retail Federation has reported that Father's Day is the sixth largest spending holiday in the US with an estimated US$12.5 billion being spent on special gifts. In the southern hemisphere, Australians are reported to have spent AU$676.5 million in 2013.
There are many markets celebrating at a similar time to the UK and US – in fact about 70 other countries including some significant markets such as India, Japan, China, Mexico, as well as many countries in Europe and Middle East. In some markets Father's Day is an imported trend so any brand looking to include it is their strategy will need to do their research and check the viability before localising their campaigns.
Brands around the world are already rising to the challenge of this multi-regional picture. We saw some great Father's Day campaigns around the world in 2014 – here are some of the best.
Singapore: sharing the love!
Excusing the rather corny line, the theme of love really does transcend international boundaries. The successful campaigns from abroad tap into that emotional charge to help with sharing and viewing across social media and TV.
Singapore telecommunications company SingTel connected with its local market by tapping into the way in which Asian Dads often indirectly communicate affection. This highlights the need for understanding local culture and using local knowledge when developing campaign ideas which will effectively engage your local audiences. The video was promoted in Singapore on Facebook and Twitter, through Digital PR and TV leading to many sentimental comments and warm Father's Day wishes via social media.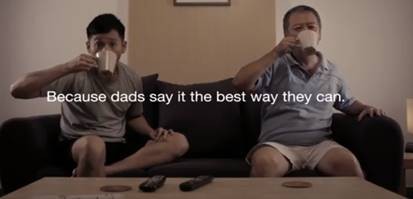 India: connecting with international kids
Indian fashion and lifestyle portal Jabong also used a range of tactics leading up to Father's Day including discount codes for selected products and DIY downloadable trophies. With its Facebook following of over 3.6 million, the portal engages with customers and has developed a great base to market promotions and offers. For Father's Day it used a simple yet effective Super Dad cut out trophy for Dads on its website landing page to draw social traffic to the site, where they could subsequently be exposed to Father's Day gift ideas.
India: the selfie: coming of age
Also in India, Gillette's international social media saw over 158,000 likes and more than 2,400 shares by running a 'Foamie Contest'. This campaign used the idea of fathers and sons taking a selfie while both wearing shaving foam – for which Gillette coined the term "Foamie". This tapped into the rite of passage of learning to shave between father and son, and India's love of technology. The visuals shared on Facebook became the most shared post during Father's Day week in India.
Father's Day is international
If you have an online presence in multiple regions, or are planning to launch into new markets, understanding key celebrations such as Father's Day can help you to extend your campaigns to reach new heights. Before you jump in do consider these few points:
Check the size of the opportunity.
Search demand and trends - Is there enough interest in the event in your new market? How long has it been celebrated and is there an appetite for your product/service in market?
Platforms and reach– explore what the best social platforms in market will be to run your campaign; get to know who local market influencers are and explore what reach you will have if you choose to operate paid social campaigns.
Language – make sure to get the tone and messaging for your marketing right by using language experts in market; this includes the types of English used in different markets!
Culture and customs – carry out a sense check as to whether your campaign will be appropriate. Despite your best intentions your campaign will need to be sensitive to each markets interpretation of imagery and text.
Connect – develop relationships to boost your success. Get to know who the influencers on social are; and what local press and sites in market you can leverage.
Working internationally there is a great opportunity to build campaigns that talk to your target audiences around their local celebrations of Father's Day to build brand awareness and drive ecommerce! Happy Father's Day!
Kezia Bibby is head of strategy at Oban Digital