Sally Anderson "orchestrated" Blunkett media coverage
Tony Blair advised News International to set up "Hutton style" inquiry
Former prime minister told Brooks to "tough up", court hears
After a two-week break while legal issues were thrashed out, the jury in the trial of Rebekah Brooks, Andy Coulson and five others returned to their seats in Court 12 of London's Old Bailey at noon today. Justice Saunders welcomed them back and informed them that the court would be finishing off the prosecution case as soon as possible but the court was not in a position to start Rebekah Brooks' defence case until tomorrow. He then asked the jury to elect themselves a foreman to deal with a "legal formality".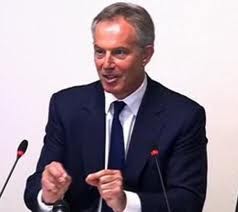 Andrew Edis QC, for the prosecution, then gave the jury documents to add to their bundles of written evidence. This consisted of admissions agreed by all parties and included mobile phone text messages from Brooks' security team which referred to photographers as "rats". The jury was also reminded that a number of News of the World journalists, including Greg Miskiw, have already pleaded guilty to the illegal interception of voicemails, "phone hacking."
Further admissions read to the jury centred on phone-hacking victim Sally Anderson, who in 2005 was named by the Daily Mail as being in a relationship with former home secretary David Blunkett. Unknown to Blunkett, the court was told, the information printed in the Mail came from Anderson herself and she had "orchestrated" the media coverage, including phoning the paper from her own mobile phone. A payment for the story was made to her then boyfriend and she later employed publicist Max Clifford to help sell her story. Blunkett later sued for libel and Anderson apologised for telling the media he was the father of her stillborn baby.
The court was then shown an email from July 11 2011 in which Brooks reports a conversation she had with former prime minister Tony Blair to James Murdoch. Brooks tells Murdoch that Blair had advised her to set up a "Hutton Style" inquiry, possibly chaired by former Crown Prosecution Service chief Ken McDonald and other "great and the good" types. Blair, according to the email, also offers to assist Brooks, James Murdoch and Rupert Murdoch deal with the hacking issue as long as it is "kept between us". Brooks' account of the conversation continues that Blair has told her to take sleeping pills and that he told her "It will pass, tough up".
Court then rose for the day with the defence case due to begin at 10am tomorrow.
All of the defendants deny all of the charges, the trial continues.