­­­­
UK retailer Iceland hopes a partnership with Disney's forthcoming animation Frozen 2 will help get customers through the door this Christmas.
The frozen retailer is playing it safe after 2018's high risk/high reward campaign came with its own fairytale-style happy ending after some controversy.
Last Christmas, Clearcast blocked Iceland's efforts to air the tale of Rang-tan the orangutang on TV. Originally a Greenpeace ad, created by Mother, Iceland's adapted spot was found to be in breach of political ad rules despite the retailer's best efforts to underscore its palm oil policies.
However, the creative racked up millions of YouTube views to become one of the most viewed spots of 2018. It also raised the issue of palm oil deforestation and highlighted Iceland's efforts to remove it from its own brands.
However, in the safe hands of Disney and its in-house creative agency, Iceland now hopes to drive footfall to stores without necessarily delivering the season's most rumbustious campaign.
Magic of Frozen
For 2019, Iceland's festive focus is to showcase the 'Magic of Frozen' — both the goods it sells and the much-anticipated Disney sequel.
Marketing director Neil Hayes, who took the role on in summer 2018, told The Drum he had secured the Disney partnership even before launching the now famous Greenpeace spot, just weeks into his job.
The retailer was without a creative agency at the time (it has since appointed Leo Burnett) but the fates aligned twice; first in Greenpeace and Iceland's palm oil messages converging, and then in the Disney brand partnerships team noticing that Iceland could definitely work with the 'Frozen' IP. Hayes made his decision three-minutes into the initial meeting.
"We organised Frozen before I even came across the idea to run Rang-tan," he explained. "Frozen has been on the cards for some time. Rang-tan will be a hard one to top, but if this comes close I will be very happy."
As the deforested home of Rang-tan the orangutan gives way to the safer, yet, colder, climes of Frozen 2, viewers will be treated to a 40-second hero film where protagonists Elsa, Anna, Kristoff, Olaf and Sven play charades in a sitting room, celebrating their favourite things about Christmas. This is interspersed with footage of a real family.
Disney's in-house creative agency and Walt Disney Animation Studios created the ads in conjunction with the movie. Hayes said the same creative team making the movie, animated and rendered the spot in their downtime, as part of their commercial commitments.
Now Hayes hopes to drive footfall to Iceland's 950 UK stores with the tie-in. With a hot property and a strong brand alignment, Iceland is the first of the big supermarkets to usher in Christmas.
He explained that the retailer's Christmas range typically launches mid-November, furthermore, the follow up to the 2013 movie hits UK cinemas on 22 November.
"It is a magical partnership so we don't want to sit on it for too long. We are really keen to get it out there."
Another factor is just how early the frozen retailer shifts Christmas dinners, he revealed it sells a surprising amount of frozen Christmas turkeys in November, they don't spoil so it makes sense to get the ball rolling earlier. "A lot of so-called fresh turkeys are pre-frozen then sold on after being defrosted so you might as well buy one that is fresh as the day it died from Iceland," he said.
"We are well represented in many communities, have a great offering, particularly at Christmas and the role of our advertising is to remind people we're good and they should visit."
The ad will air from 1 November on ITV and will be followed up with a series of shorter spots. Furthermore, press and out of home executions are to come, making full use of the Frozen 2 property.
But in pulling the campaign together, Iceland has launched an exclusive Disney's Frozen 2 range of frozen treats.
The company said: "Iceland's rich history of frozen food innovation allowed the Disney Kitchen products to fit seamlessly into its range."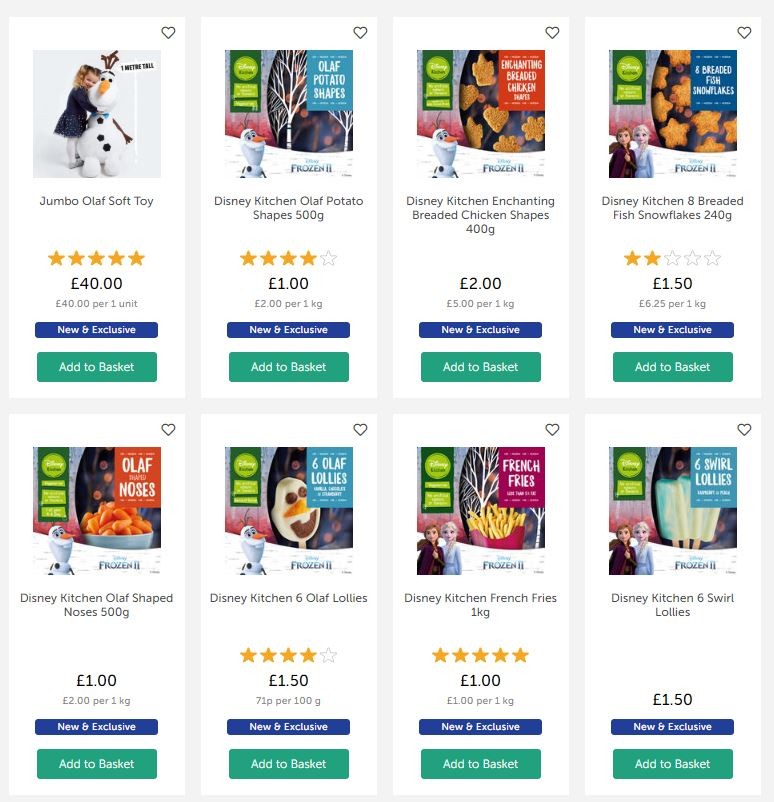 But the real traffic driver will likely be a metre tall Jumbo Olaf soft toy (£40), the largest Olaf on the market. It is sold exclusively in the supermarket and online and "has gone down really well with kids already," said Hayes.
It will likely not be the only retailer putting highly desired toys out into the world. Aldi's Kevin the Carrot often pulls crowds, and John Lewis has also merchandising its mascots each year.
What about palm oil?
By embracing the popular Disney brand, Iceland is putting less emphasis on its CSR efforts. Hayes assures Iceland is still looking to become more sustainable, "we are not changing focus, this is just about timing".
In 2018 it committed to becoming the first major retailer, globally, to eliminate plastic packaging from all of its own-label products by 2024. And in 2018 it removed palm oil as an ingredient from its own label ranges.
"Last year, we spent 12 months of grueling work removing palm oil from our own brands - all done in a low key way but when the opportunity arose with Rang-tan, we grabbed it. It was the best way of celebrating the brilliant work that we've done."
Although more work has continued this year removing single-used plastics from shelves, Hayes said: "The most genuine thing to do would be to celebrate it when it is done. We are happy with the progress and are offering customers a plastic-free Christmas."
He concluded: "Frozen has such an obvious connection to us, we couldn't turn it down."
It's not particularly unusual with a brand to tie in with movie properties, in 2017 we saw Paddington and M&S and in 2018 John Lewis set the stage for Elton John biopic Rocketman.