NatWest is testing an in-store format that will look to emulate the more people-focused experiences offered by retailers as part of a wider marketing move away from product messages.
The RBS-owned bank has redesigned its Shoreditch and Moorgate branches in London, and brought in a black and white cartoon-style set-up to represent a variety of different scenarios that consumers may need financial assistance with.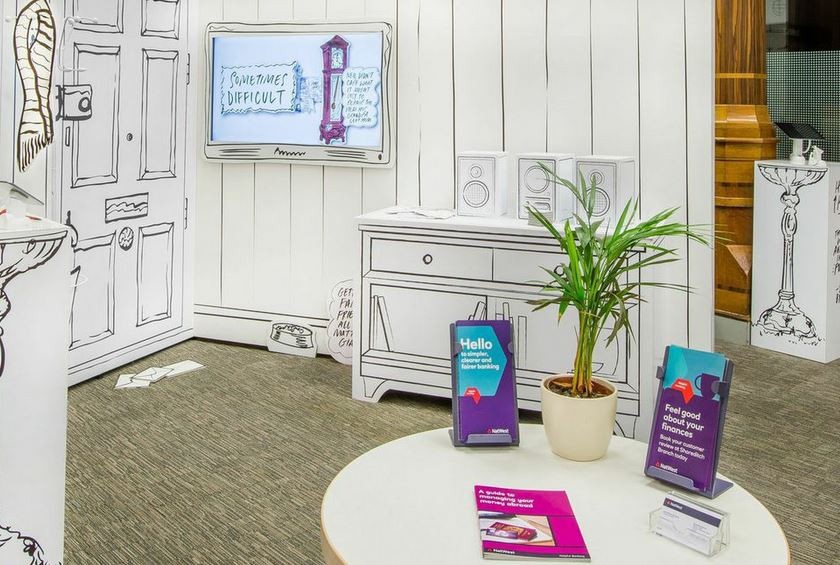 The idea for the new look ties to the bank's bid to adapt the human-centric messaging found in the retail environment according to a source at Boldrocket the agency behind the work.
"The most exciting thing has been NatWest saying that in the retail world communicating customers with messages is so much faster and it's time for the financial services agency to really start meeting that," they told The Drum.
"It's quite tricky, [the perception of] financial services is [that it is] a staid industry and it's about so many important things around the security of money. But there's this stereotypical view that it can't do things that the retail area does in terms of communicating with customers. But it can and it should because customers like to be spoken to in less of a 'financial services' way."
NatWest's brief to Boldrocket was to communicate the idea that consumers think about the end result of taking out a loan or mortgage and not the financial product itself; for example people don't wake up thinking of taking out a mortgage, they wake up thinking about buying a home.
From this the agency came up with the 'Life is a blank canvas' idea and created an installation-like range of large scale items such as a wedding dress, or coffee cart to communicate the different reasons why consumers may take out a loan and the type of financial products on offer.
The success of the new branches will be measured with a view to a nationwide rollout across some 300 NatWest branches.
NatWest is also keen to introduce new in-store technology and mobile apps to reflect the new positioning and will work with its customers to help shape how this and its products may look. Those customers will be the ones who come into NatWest branches rather than pilot groups who can sometimes provide feedback that's "over-thought".
Images sourced from Philip Volkers Photography.