Zoopla has threatened to pull its shirt sponsorship deal with West Brom if Nicolas Anelka plays in the game against Everton tomorrow, Monday 20 January, following the player making an anti-semitic gesture.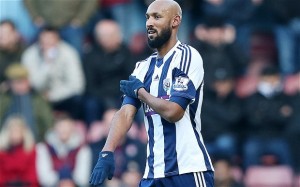 Anelka making the 'quenelle' guesture on 28 December
The Football Association (FA) is currently investigating Anelka's 'quenelle' gesture, which he made on 28 December.
Anelka admitted making the gesture, where he placed his left arm across his chest while keeping his right arm pointed downwards, as a "special dedication to my comedian friend Dieudonné", who invented the gesture.
However, Zoopla, owned by the Jewish businessman Alex Chesterman, said Anelka must be dropped before the game, and that the company will demand its name removed from the shirt 'immediately' if he plays.
West Brom has said in a statement: "Nicolas is eligible for matches whilst the FA carries out its investigation. Therefore, Nicolas will remain under consideration for first-team selection whilst the FA and club continue their enquiries."
The sponsorship deal with Zoopla, made in May 2012, is worth £3m.