NHS bosses have come under fire after seeking inspiration from violent Tarantino flick Reservoir Dogs, in which an undercover policeman's ear is slice off, when filming a flu jab campaign.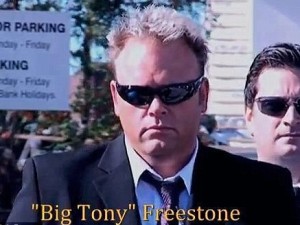 The homage saw medics dress up as Mr Orange, Mr Pink and Mr White from the 1992 movie in a bid to persuade staff to get vaccinated against seasonal flu.
Threatening a Van Gogh'ian fate for anyone who failed to get the jab the medics spent a full 5 minutes re-enacting the torture scene in front of their camera.
The role playing extended to one medic Anthony Freestone, head of resuscitation at NHS Lancashire, dancing around a co-worker in a boiler room before pretending to inject him.
Other scenes depict staff in dark suits and shades stalking hospital corridors to dispense jabs.
Trust communications assistant Lee Rayner, said: "The video shows how a serious message can be driven home in a fun and innovative way.
"We wanted to raise awareness among staff about the importance of being vaccinated but we wanted the message to be delivered in a fun and engaging way."