Showrooming is rife in the UK for 'considered' purchases, according to a new Microsoft study, announced at Ad Week 2013.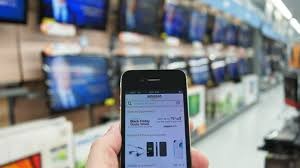 Image: Retail Prophet
In looking at the shopping habits of Brits compared to Americans, 42 per cent of those surveyed in the UK said they will look at electronic goods in-store before buying online from a different retailer.
Compare this to only 27 per cent in US, with 36 per cent of those who look in-store before buying online doing so from the same retailer.
Brits are also much more decisive in their shopping journey. When shopping for electronics, 77 per cent visit only the area they originally set out to look at, compared to 59 per cent in US.
In the US, 14 per cent browse the whole store before buying, compared to 6 per cent in the UK
The average UK shopper is also much less impulsive in-store.
The study found 81 per cent of those surveyed will buy only the electronic item they went in for and nothing else, compared to 57 per cent in US (where 34 per cent buy other electronics after buying what they actually wanted in the first place)
These figures formed part of Microsoft's wider survey, titled 'How Advertisers Can Take Advantage of Future Consumer Trends Today'. It involved 6,000 consumers across five markets, including Brazil, Canada, China, the UK and the US.