Lemsip is looking to settle the man flu debate once and for all with a new Facebook campaign which parodies the classic James Brown hit 'Man's World'.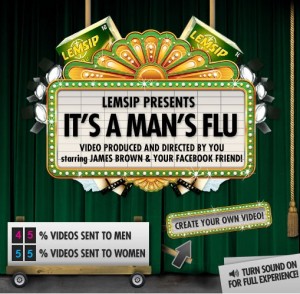 It's a man's flu
Visitors to Lemsip's Facebook page will find an 85-second cut of a 1970s James Brown concert, which they can personalise and send to their friends.
Blokes can demand sympathy from their heartless females while women can create their own video telling their men to pull themselves together and stop being so melodramatic.
"This Facebook video will make people laugh, give them an opportunity to share with friends, and reinforce the Lemsip brand messages at a time when people need reliable winter remedies," said Reckitt Benckiser marketer Refik Oner.