To celebrate the launch of its new Gourmet range, Domino's has teamed with Virgin Wines for a new offer.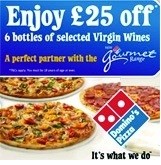 Gourmet from Domino's
Under the offer, customers buying a Gourmet pizza online from Domino's will be able to buy six bottle of wine from Virgin Wine for £25. They will also get £10 off wine when spending over £25 at Dominos.
The Virgin Wines deal is being promoted via Domino's ordering website [www.dominos.co.uk], as well as through Virgin Wines' ordering website [www.virginwines.co.uk] and customer emails, case inserts and on the Virgin Wines blog.
Simon Wallis, sales and marketing director of Domino's Pizza, said: "We are delighted to announce this tie-up with Virgin Wines. Our new Gourmet range has been developed to appeal to a wider pizza eating audience and the tasty new toppings and new fresh thin crust make them perfect for enjoying with a great bottle of wine.
"This promotion will enable us to reach out to more potential pizza eaters, while also offering added value for our existing Gourmet customers."
Jay Wright, managing director of Virgin Wines, said: "We're very pleased to be working with Domino's to help promote its new Gourmet range. It's a good fit with Virgin Wines as we too will deliver straight to our customers' doors and the pizzas are a perfect match with a fantastic selection of our wines!"