AirAsia: Whatever Makes You Fly, Fly With Us
AirAsia: Whatever Makes You Fly, Fly With Us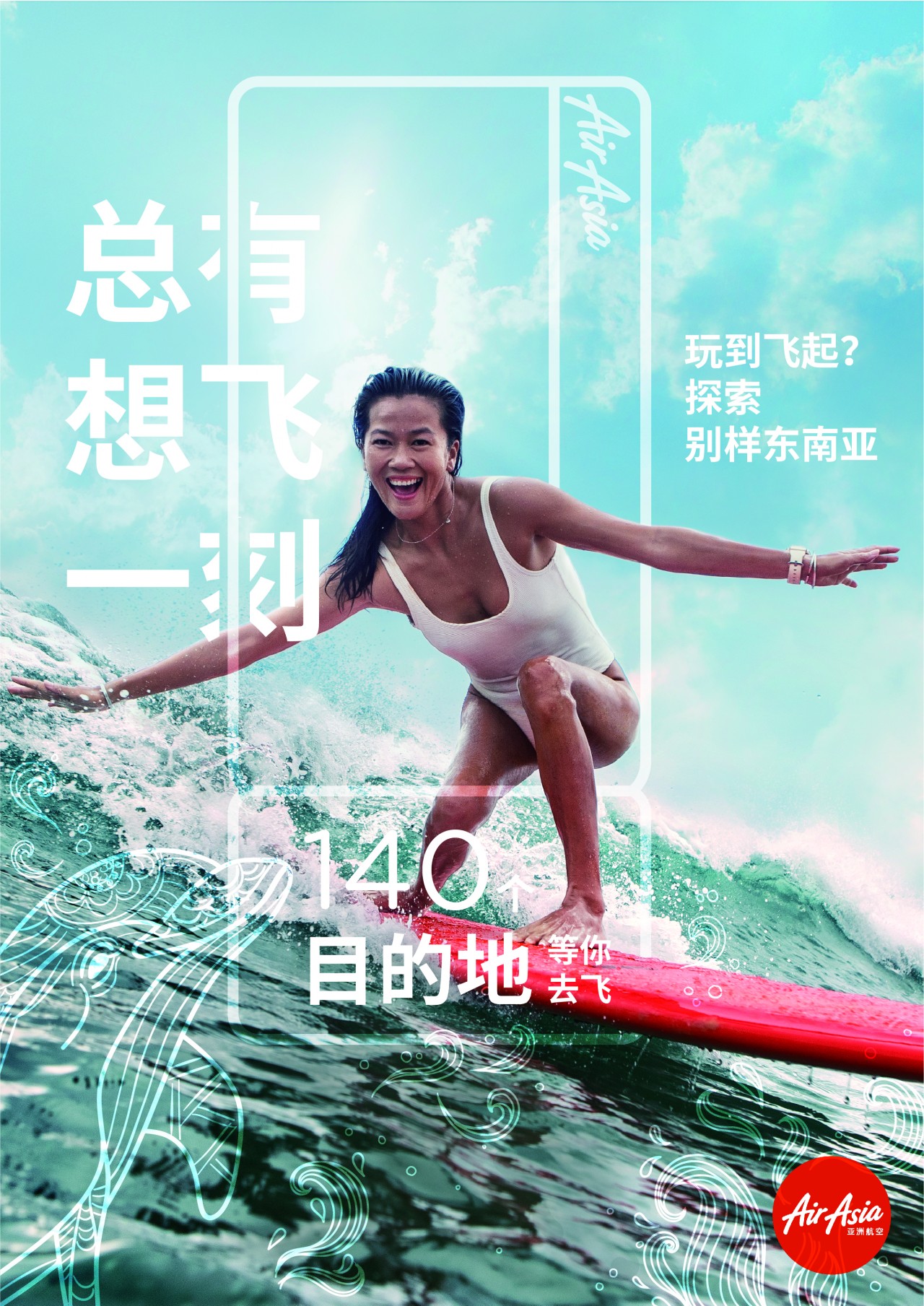 AirAsia has launched a campaign in China that aims to draw Chinese youth to fly to off-the-beaten path destinations with the low-cost carrier
The campaign, called "Whatever Makes You Fly, Fly With Us" and created by Tomorrow Shanghai, used Chinese influencers, are more commonly known as key opinion leaders (KOLs), like longboard surfer Monica Guo, paraglider Zhang Kehan, and free diver Jessica Du to front it.
In the campaign film, the KOLs travel across South East Asia with AirAsia and take part in activities from swimming with whale sharks in the Philippines to visiting ancient temples, riding jungle swings, surfing or paragliding in Bali.
As part of the campaign, the public were driven to a website where they were asked select "the settings" of their ideal holiday with AirAsia.
After choosing a destination, users received video content customized to their settings to share with friends and got the chance to win free tickets to their dream locations.
AirAsia claimed over 100,000 unique visitors between June 10 and June 28 viewed the campaign site more than half a million times. The average time spent by the visitors was 72 seconds and the bounce rate was lower than 5%.
The film was released as a WeChat Moments ad, Tencent Newsfeed ad and it ran as a Tencent pre-roll. The media push included advertorials in partnerships with WeChat KOLs.
Credits
Client: AirAsia
Agency: Tomorrow Shanghai
Sr. Copywriter: Jing Zhu
Art Directors: Chenmiao Liang, Lihan Zhang
Associate Strategy Director: Dragon Zhang
Account Director: James Shen
Agency Producer: Jaap Bosman
ECD: Mihai Gongu
CEO: Rogier Bikker
Production company: The Sweet Shop Shanghai
Directors: Robin & Cako
Producer: April Lee
Managing Director & Executive Producer: Laura Geagea
Post Production: Fin Design + Effects Shanghai
Offline Editor: Luu-Anh Laporte
Music: GUM Shanghai
Talent:
Paraglider: Zhang Kehan (@zhankham)
Freediver: Jessica Du (@jessicadddddd)
Surfer: Monica Guo (@monicaqie)