Magazine + Free Online Subscription (25 issues) - £137.60 Offer
Image: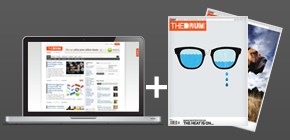 THE DRUM magazine is the leading independent publication pulling together latest news, insight and jobs for the design, advertising, digital, marketing and media sectors.
This subscription package offers you a fantastic magazine freezing time twice a month with all you need to know helping you to do your job better or grow your business. In addition you will receive FREE online access to all the exclusive subscriber content.
Every issue contains following sections:
Indepth specialist reports
Analysis of the latest news
The Works gallery of latest creative work
Knowledge Bank
Pitch News
Latest appointments
Your subscription will give you:
Ability to View + leave online comments – Interact and join discussion with other users
Email Alerts – Choose from The Drum daily update and additional sector specific newsletters
Exclusive Reports, Case Studies, Analysis – Cutting edge knowledge covering all marketing sectors and channels giving you a competitive edge
Personalised News (MyDRUM) – Create a personalised homepage from the disciplines, sectors and locations that are of most interest to you
Extended User Profile – Promote yourself with options including LinkedIn, Twitter and Facebook links, biography, image and links to your company
Fortnightly Magazine – Only subscribers get our insightful, fun and informative magazine twice a month, giving you confidence in a world of frantic online news streams, that you are not missing any major issues
The Drum Yearbook – Fully comprehensive guide to all design, advertising, marketing and media sectors in UK
Specialist Supplements – Only subscribers get additional publications including and special industry supplements; helping you benchmark your business against competitors and well as identifying the best suppliers)
1